Keep your data healthy 
The importance of UA data health check
If you're running user acquisition marketing campaigns as a key component of your digital marketing strategy then you need to make sure your tracked data that will be used for evaluation and also campaign algorithms are correct enough. This is essential for being able to run campaigns effectively. A good, healthy data tracking (discrepancies roughly within the 5% range) can help ensure that your campaigns will be as successful as possible. Of course, you have to make sure each and every aspect of your campaign is as good as it can be, but it is a very good idea to start with a data health check before creating, launching, and scaling campaigns.
Before you start using this basic instructions suite, you'll need to run a data health check campaign. Usually, it's one campaign with a small amount of daily spending per channel, to ensure that you'll get maximum results from your campaigns. Poor data tracking can attribute to poorly performing UA campaigns and insufficient UA scale as you are not able to evaluate campaign performance properly.
Why is a UA data health check necessary? 
It is best practice to keep your data in good condition. A well-kept data health will ensure that you have a data-driven approach and the game will be scaled more efficiently through UA. It consists of checking the infrastructure and comparing data through different sources which are used.
Which metrics are necessary to compare?
Users arrive at your game through different marketing channels, including social networks (Facebook, Google UAC, Snapchat, TikTok, etc.), search (Apple Search Ads, Google Play Search, and Google Search), various video networks, various demand-side platforms, influencers, and traditional channels to some extent (TV, etc.). Having the right metrics in place is important but ensuring that you track them properly is even more important. Here are the necessary metrics that every developer and marketer should check before scaling.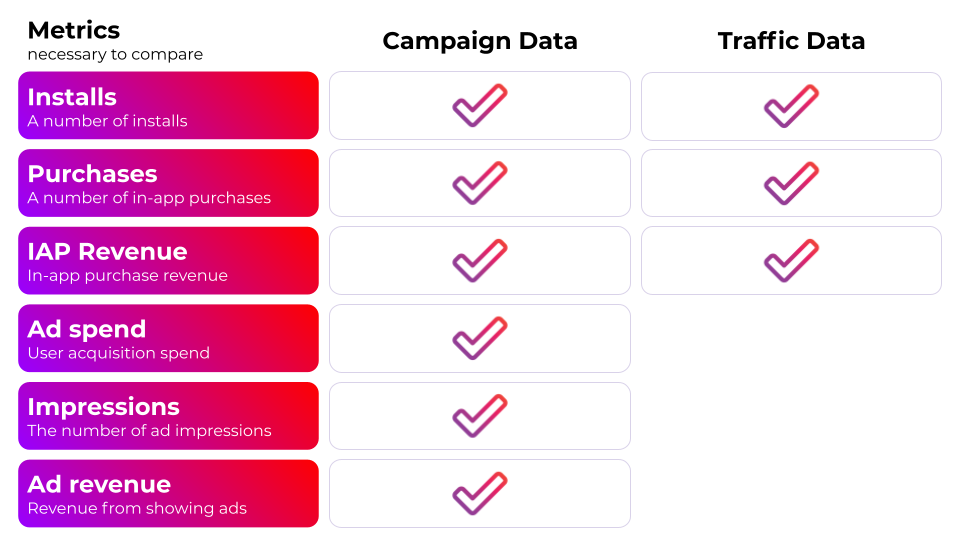 Example of how a quick data check should look like
For our purposes, we use as an example data from the marketing channel Facebook, which we are going to compare with the attribution platform, in our case, it's going to be Appsflyer.
So first of all, we need to prepare a data check campaign for each marketing channel that we would like to scale. In our case, it's going to be Facebook. Secondly, you need to know if your app is driven by IAP or Ad revenue only or their combination (it's crucial for campaign optimization). And last but not least, which countries are unlocked for each platform that you want to test.
Launch a worldwide campaign if possible and optimize based on events that you need to check. A worldwide campaign can help you identify TOP-countries during data check much earlier so you can immediately find out which countries make sense to scale more later on. Provided that the data after the test were correct.

After a few days of running a data check campaign, we can start with a data comparison between the marketing source (Facebook) and the mobile measurement partner (Appsflyer). 
Campaign data Facebook vs Attribution platform
In this case, you need to compare the data per platform and campaign. Go to the Appsflyer Activity tab, select the period of time, when the data check campaign was live, and export – installs, purchases, purchase revenue, cost per platform for attributed traffic (cost is available only for Xpend clients) from Appsflyer. Extract the same daily campaign data from Facebook and compare the daily data and sum data between AF and FB, at the end of the day, overall values are most important. 
You can also check daily Ad revenue per platform from Appsflyer (if the app is using In-app ads) and compare it with the same daily data from the Ad mediation platform.
Note: Regarding iOS14+ platform you need to check and compare installs also from SKAN Overview tab in Appsflyer. According to Appsflyer, the displayed data using the postback arrival date or by install date is derived using your measurement settings and postback arrival date. The install date is derived from the postback arrival time as follows: Postback arrival time-36 hours-[average last-active range]. The default [average last-active range] is 12 hours.
Traffic data Stores vs Attribution platform
To validate the comparison of campaign data, you should also compare all traffic data between the attribution platform and a specific store.
Go to the Appsflyer Activity tab, select the period of time, usually for the last 30 days, extract daily data – installs, purchases, and purchase revenue per platform for all traffic from Appsflyer. Extract the same data from a specific store and compare the data and sum data between AF and Store.