Before Diving in here's some topline information about Rovio:
2021 Revenue Eur286.2 million that's 5% up from 2020 but down 1% from 2019

Pretty flat revenue growth
2017 revenue (year went public) EUR297m
66% Revenue from USA, 21% from EMEA and 12% from Asia
80% IAP, 15% Ads, 3% Licensing deals, 2% other deals

5m Daily Active Users in 2021
Claiming a 93% global awareness of Angry birds "Put 10 people in a room and only 1 hasn't heard of me. That's probably the baby who doesn't have the internet yet."
Rovio went public at around EUR11.80/share and is currently trading around EUR7.20/share which is up from about EUR5 in late 2021.
MarCap is around EUR603 meaning that Rovio trades at about a 2.1x rev multiple.
New Rovio CEO commits to making more acquisitions
PART 1 – UA
First i'm gonna look at some of the games they released and some of the games they soft launched during the last three years starting somewhere in 2019 of course. There are much more than those but I don't want to go to all of those and then i want to look at their current revenue structures and the differences between the last two years based on portfolio performance and based on that we can then pretty much see what happens there. Based on several tools and comparison between each other top spending games atm:
Angry birds 2
The biggest game and the longest "live"
iOS Google Ads biggest UA channel? 50% of spend goes there
What was really interesting to see from the front analysis i've done – it's like all those tools are just trying to show that they are scaling really big on google uac on ios which really don't make any sense, so i'm wondering if the tools are wrong or there is something really weird happening there in terms of the UA
Why sacling on google is bad idead? Just to be clear this is not a bad idea in general, it just is not working well that much since att happened. The ios traffic is almost dead , on google there is five days delay of conversion data. You can't run TROAS campaigns which is the most valuable optimization on google you can do on android and you can't just do it on ios. There is the beta program for like a really very small handful of developers that they can try but it's just impossible to run very well/profitable.
You need to wait 5 days for data and then be surprised that the traffic migt be s****y.
On android it is very different story, works like a charm
Highest spending is Google, FB, Vungle, Unity, Applovin twitter, adcolony
Twitter is surprising, because nobody in the whole universe can get a good reuslt on twitter and I think it is an experimental ad network in this case
If you want to scale this type of games, you need more ad networks (tiktok, snap…) and spend money there and make it work
Angry birds Dream Blast
iOS Google Ads biggest UA channel? Wtf 70% of spend goes there
So then we have the the dream blast and again i saw like 70 percent of ad spent went to google on ios. Again nothing against google, we have a lot of google friends also listening to the podcast thank you very much for that, but still not that much scalable and at least in my in my experience this didn't work that well
On iOS there are many more ad networks you can scale your game on like facebook, tiktok
There is always a process or a hack that you might find in the UA channel, based on the data you get by using different targetings, audiences, creatives etc
For TikTok test everything, use all you got and find the best result, if you are big enough like Rovio
Dream Blast is not growing anymore, its almost flat and looks like slowly dying
What I don't see any fake-ish ads from Rovio, which is somehow probably a strategy thing, but they are the best for growth
The Netflix series and TV shows are more doing something for the brand awareness, but you cannot measure UA impact of those
Angry Birds Journey (Global launched in Feb)
Facebook (Super big spend), Google, Unity, Vungle, Ironsource
This was global launch very recently and the facebook is a super big spend which makes total sense
What about other channels? Wy don't we see there a tiktok, snapchat and whatever else?
Company like Rovio needs to invest in other channels (Applovin, Snapchat, TikTok… it seems like a pattern for Rovio)
Already peaked? What was the global launch strategy?
Small Town Murders
Already looks like it's not getting any traffic since last year /september, october/ but the revenue is still there. That's something but it is declining.
Lot of game developers are trying to diversify and don' have only one segment of games (like casual)
Mid-core, sports or other genre future strategy for Rovio might be in acquiring other companies around Europe
What I am missing in Rovio strategy is some kind of big innovation in terms of UA and creatives
Sugar Blast
Looks like Sugarblast is not live anymore – no UA and downloads almost dead
Trying to stay away from "fake ads" why?
Looks like the company has the "same" UA channel strategy no matter how old the game is.
Based on the admon data + the fact they have Singular, I would say they dont run any AdROAS campaigns (especially on Unity, Google or Applovin) which again leaves a lot of money on the table. Low competition, quicker ROI, lower CPIs..
PART 2 – Admon
Tricky thing with Admon is that as external without first party data it's very hard to make calculations.
It's rumored that Rovio has their own mediation platform making it a bit harder.
However, after playing most of their games for this I realized that out of the 21 games live on iOS right now I only got a IDFA tracking opt-in message on 1 game.
That means that on pretty much all their iOS titles they assume every user is an LAT user (Limited Ad Tracking).
For those who don't know, LAT traffic is a lot cheaper on iOS compared to IDFA traffic since it's harder to predict conversions. Delta is anywhere between 20-40% on eCPM.
So this got me thinking "How much money is Rovio losing by not even asking for an opt-in and just assuming that everyone does not want to be tracked?"
In 2021 Rovio's overall group revenue was EUR286m and out of that 14% or $41.6m was ad revenue.
Rovio does not break out ad revenue by OS in their annual statement but looking at data sources it looks like about 28% of Rovi's users are iOS.
iOS users are more valuable from an eCPM standpoint compared to Android, so let's assume that about 40% of Rovio's ad revenues come from iOS.
So if you take 40% of $41m that is $16.6m of ad revenue that comes from iOS.
I know that on Casual and Midcore titles you can get a 50% opt-in rate in user consent.
So then I looked at the average eCPM delta on LAT and IDFA traffic

USA RV LAT $17.5 / $25 IDFA – 42%
RoW RV LAT $8 / $9 IFDA – 12.5%

Rovio's geo revenue breakout

9% rev from USA
1% from RoW

Assuming you can get 50% of those users to opt-in to tracking that would mean an extra $2.6m of ad revenue for Rovio

45% extra of overall ad revenue
94% of extra of overall group revenue
94% of revenue might not sound a lot but that extra $2.6m would make their 2021 revenue same as 2019 revenue which was their second highest rev year ever

I made some assumptions sure – even if I'm off by 50% that's still 0.5% of group revenue.
I didn't look at the Ruby hypercasual portfolio but I hope to god that they are not assuming all iOS users are LAT there too because that is a true kiss of death for hyper casual studios.
PART 3 – Game Design
First lets have a look on some of the games they sof-launched and released
How many number of games there are? over 80 I think? Thats a lot!
Angry Birds AR: Isle of Pigs
SoftLaunched Apr 11, 2019 Angry Birds AR: Isle of Pigs – Original IP – Dunno if Brand support app or geolocation segment actual app to try to compete in the environment
Last update Aug 14, 2020 – possibly abandoned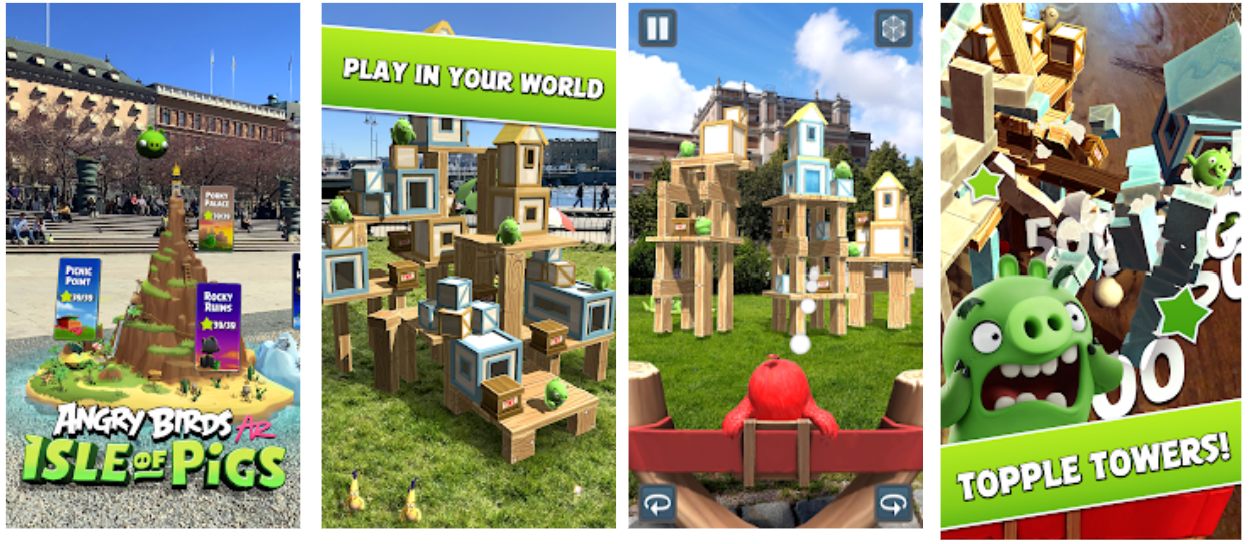 World Quest – Idle MMO
I don't think those were made internally, there seemed to be a push to Mid-Core games by publishing those type of games
SoftLaunched Jul 19, 2019 World Quest – Idle MMO – Original IP – PvE based RPG with semi automatic combat
Last update Mar 9, 2020 – possibly abandoned
Seemed like very simple and nice RPG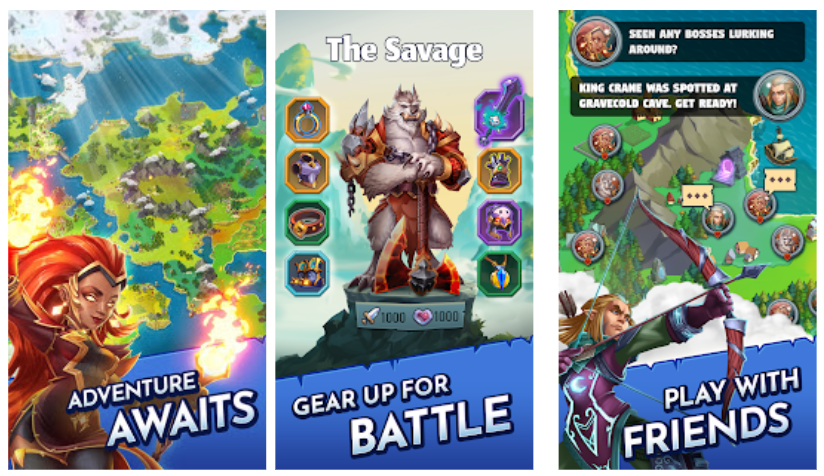 Darkfire Heroes
SoftLaunched Aug 16, 2019 Darkfire Heroes – Original IP – Clash Royale real time strategy gameplay but PVE
Global Launched Apr 15, 2021 – peaked at 0,3 Mil $ at May 2021. Currently stopped UA
Last update Feb 3, 2022
This one is pretty innovative. Rovio already said they are not going to continue to develop this title.
There is no UA planned currently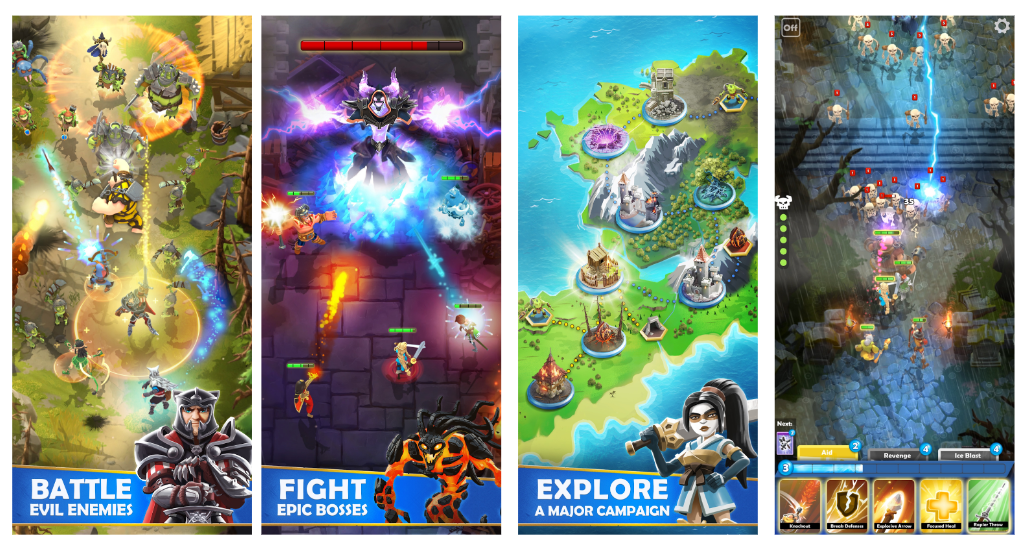 Small Town Murders
SoftLaunched Oct 10, 2019 Small Town Murders: Match 3 – Original IP – Iteration on the Gardenscapes formula
Global Launched Jun 11, 2020 – peaked at 1,3 Mil $ at May 2021. Currently stopped UA
Last update Apr 7, 2022, game seems to be still running
Match three iteration of the Garden Scapes formula
This one was a success from my POV
Phoenix Rangers: Puzzle RPG
SoftLaunched Nov 26, 2019 Phoenix Rangers: Puzzle RPG – Original IP – Empires & Puzzles Follow up
Last update Jun 10, 2020 – possibly abandoned
Lets skip this one, just another proof of not that much success in mid-core gaming genre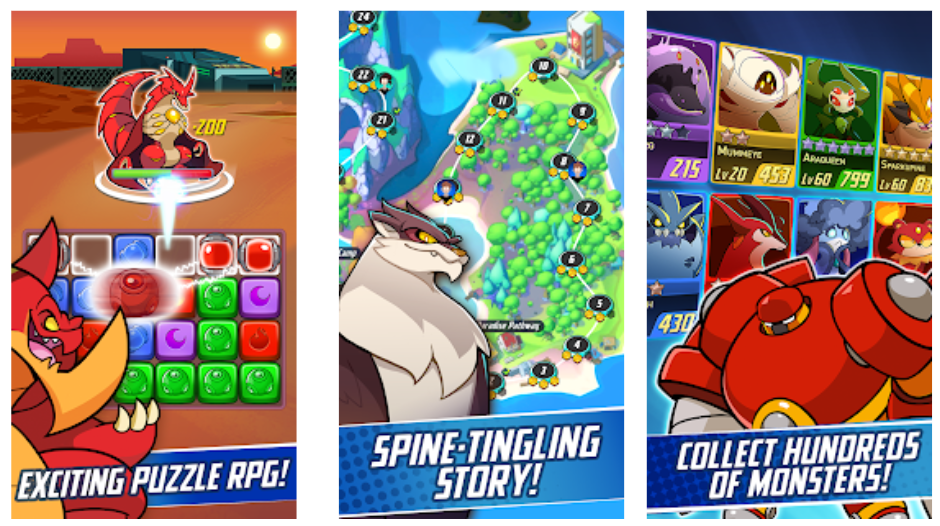 Angry Birds Tennis
SoftLaunched Feb 6, 2020 Angry Birds Tennis – AB IP – Tennis Clash Follow up with AB IP
Last update Jul 21, 2020 – possibly abandoned
Simmilar game to Tenis Clash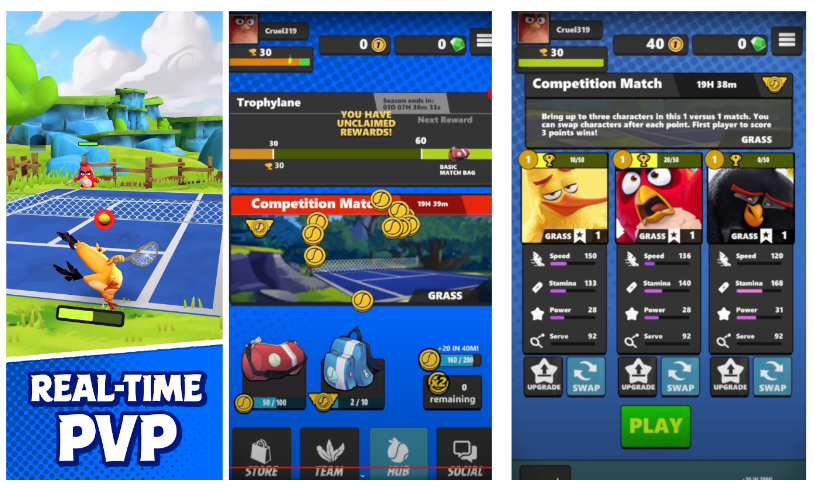 Angry Birds Journey
SoftLaunched Mar 2, 2020 Angry Birds Journey

– AB IP – Original continuation of the Angry birds formula from Angry birds 2

Last update Apr 13, 2022

Global launched Jan 20, 2022 – peaked at 3M$ IAP a month in March 2022
Spending like crazy these days (see more in our UA part of this blog)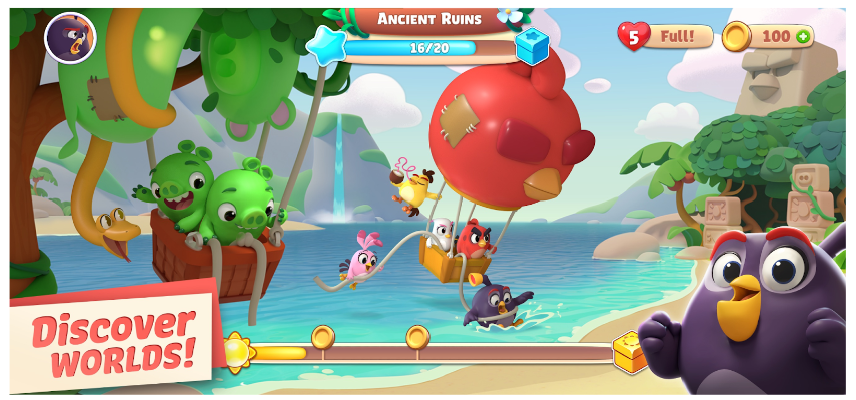 Angry Birds Legends
SoftLaunched Mar 28 2020 Angry Birds Legends

– AB IP – Turn based RPG – very simple design

Last update Dec 8, 2020 – possibly abandoned

They did two versions of the same game (one with Angry bird and second one with more generic characters (Chronicles of Legends)

Chronicles of Legends
SoftLaunched Mar 28 2020 Chronicles of Legends

– Original IP (still a derivative version of AB Legends IP)

Last update Apr 16, 2020 – possibly abandoned

This was probably a part of the test comparing audience reaction to different assets

Hardhead Squad: MMO War
SoftLaunched Jun 3 2020 Hardhead Squad: MMO War

– Original IP – a 4x strategy (Rise of Kingdoms like)

iOS version taken down from the store Apr 17, 2022.

Last update Aug 12. 2021 – possibly abandoned

Something simmilar to Rise Of Kingdoms

Supernatural City: Match 3
SoftLaunched Apr 8 2021 Supernatural City: Match 3

– Original IP – complete gardenscapes Formula (or Mannor Matters but with match 3 core not hidden object) – seems like a continuation of Small Town murders formula

Last version update Sep 27, 2021 – possibly abandoned

Moomin: Puzzle & Design
SoftLaunched Dec 8 2021 – Moomin: Puzzle & Design

– Original local Finish IP – complete gardenscapes Formula

Last version update Mar 21, 2022 – active development

The freshest one, so let's wait for the performance

Rovio Classics
Released March 31.2022 – Rovio Classics

– Original Angry Birds for 0.99$ – around

140K

downloads

200K

– Brand support project

Nostalgic way to support the Rovio brand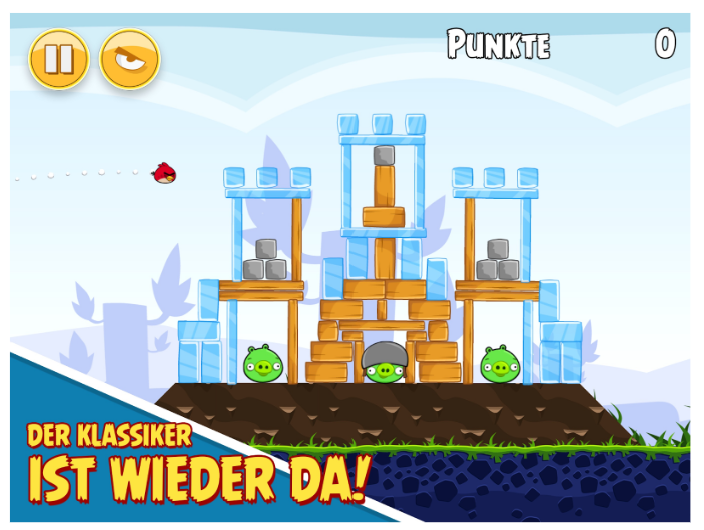 Game Design Summary
So looking on this kind of portfolio, you can easily see the pattern here. There is this kind of a big push on a casual game (continuation of original game or a new one) and publishing mid-core games that usually don't make the cut in the end.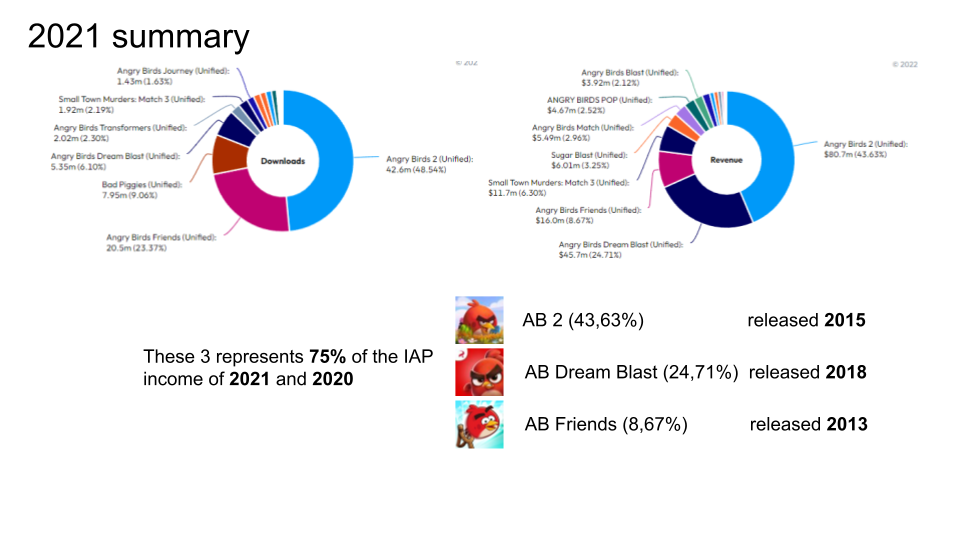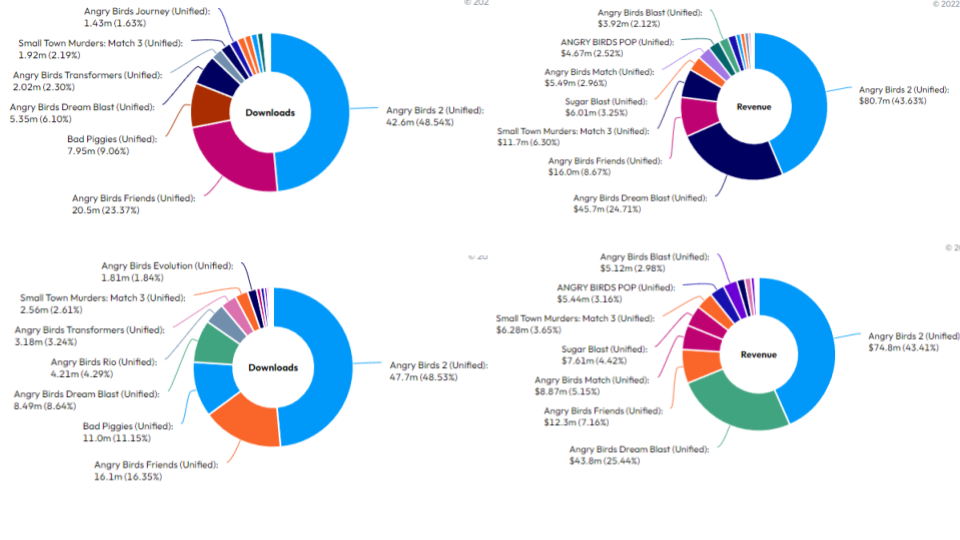 We don't see the ad revenue, but still from downloads and revenues we can assume what kind of games are live and how many % of revenues goes from IAPs.
What it all means? 75% of revenue of the whole company is driven by theser 3 big games, where the youngest one already 4 years old. That is kind of problematic. Usual lifetime is always different. CandyCrush is still scaling up – and that may be the same with Angry Birds. Second problem is that those are all in the casual genre with numerous tries in the mid-core, with no success. My guess is that they will make more acquisitions.
Listen to our podcasts to learn more!
Please share feedback and comments – matej@lancaric.me