Do I need pictures or videos? Well, both, but while pictures are good, video is what attracts mobile gamers the most. The video ad format is considerably superior to photos when it comes to advertising mobile games. It is because your future users want to get a feel for a game before downloading it and learning how to play it. It's difficult to capture that in a photograph.
And don't forget to make more than one of each. I know it may feel overwhelming for a starter, but keep in mind that in different campaigns for different users, different creatives will work. And some of them will never work as you planned. Be ready to evaluate and make changes.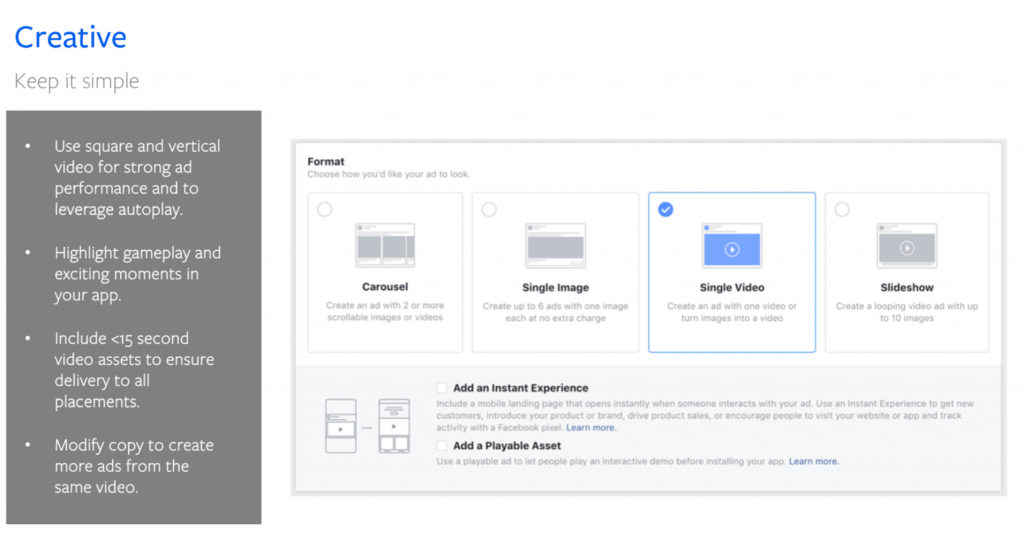 Step 2: Show me your money
Choose "Get installs of your app" while creating your ad in Facebook's ad manager. Then link your app store placements, so when your future users clicks on your ad, they will be brought to your App Store profile.
Now it is time to choose how much money are you actually willing to spend. Let's speak about budgeting for a moment. "It's easy for you because you have a big budget," you could think. Let me tell you right now: it has nothing to do with it. It all comes down to who can optimize the most effectively.  For example, if your ad budget is too low, you won't obtain enough data, or the sample size will be too small.
Facebook lets you choose two different budget optimizations – Ad Set Budget Optimization  = ASBO and Campaign Budget Optimization = CBO. 
When you choose ASBO this can happen:  there's an ad set that works really well but because of ASBO, it can't spend more that day.  But also oposite is possible:  you're wasting your budget on an ad set that's not producing good results.
But if you choose CBO, Facebook decides for you – it lets the algorithm allocate the budget. So if a particular ad set is performing well, the algorithm will put more money towards that ad set.
It may feel that CBO is the way to go, but it is not that easy at all. 
While CBO optimizes campaigns in a way that Facebook thinks is good, ASBO allows you to test. You can, at any moment, decide how much you want to spend on a specific audience or creative.
So you should use CBO on things that you know are working. While using ASBO on new stuff. And one more thing – use  Lowest Cost (LC) option for the testing phase and Bid Cap (BC) when launching the mobile game.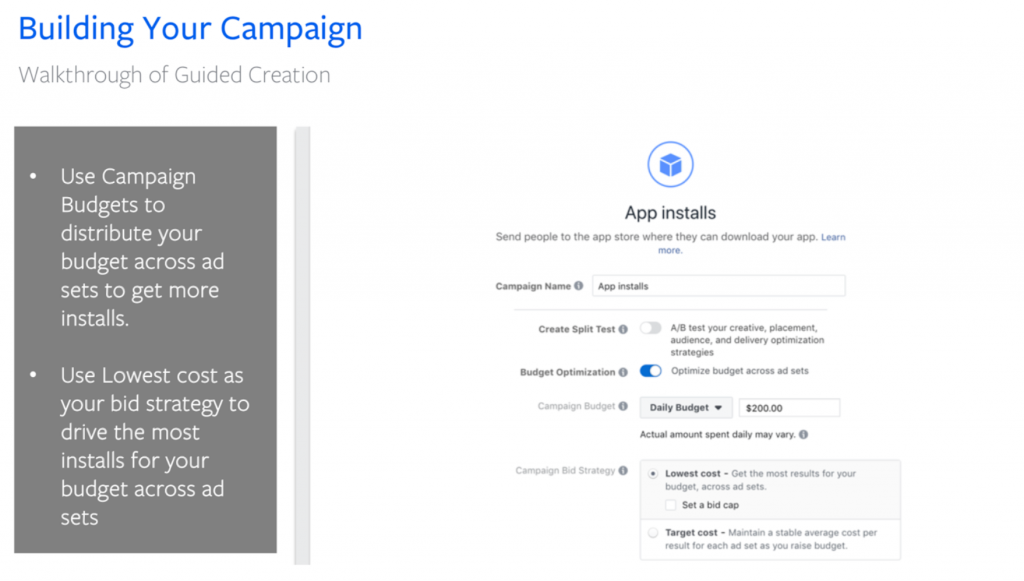 Step 3: How many is too many?
Ok budget is clear, now you should decide how many ads you are actually going to publish.
Now what we want is to test all ads for each ad group. You can do it if you deploy 3 to 7 ads for every ad set. You'll get relevant data not only for each ad set, but for each individual ad as well.
The campaign will ideally distribute the cost among ad sets and advertising by keeping the number of ads per ad set between 3 and 7. Remember that the more ad sets and commercials you have, the more money you'll need.
Step 4: Know your audience
Having nice ads and budget to go with is nice, but who is your future user? Of course you can say "I want everyone", but it is highly probable, that you won't get 7 billion users:) So instead go country by country, interest after interest, age group after age group. You can learn about lookalike audiences in our other blog post. Facebook has a staggering amount of users (over 1.5 billion), so be as explicit as possible when setting up audience parameters.
Facebook's audience reach is intricate, and allows you to target users at a granular level from age, gender, location, interests, job title, and more. Play around with it, and make sure it encompasses all elements of your target audience. 
It may not guarantee any success but Facebook's Audience Definition ticker will tell you if your audience is broad or more defined. Make sure you're in the green where it says, "Your audience is defined."
Chances are you have more than one target audience. That's where Facebook ads become even more powerful, allowing you to run custom ad campaigns based on your audience.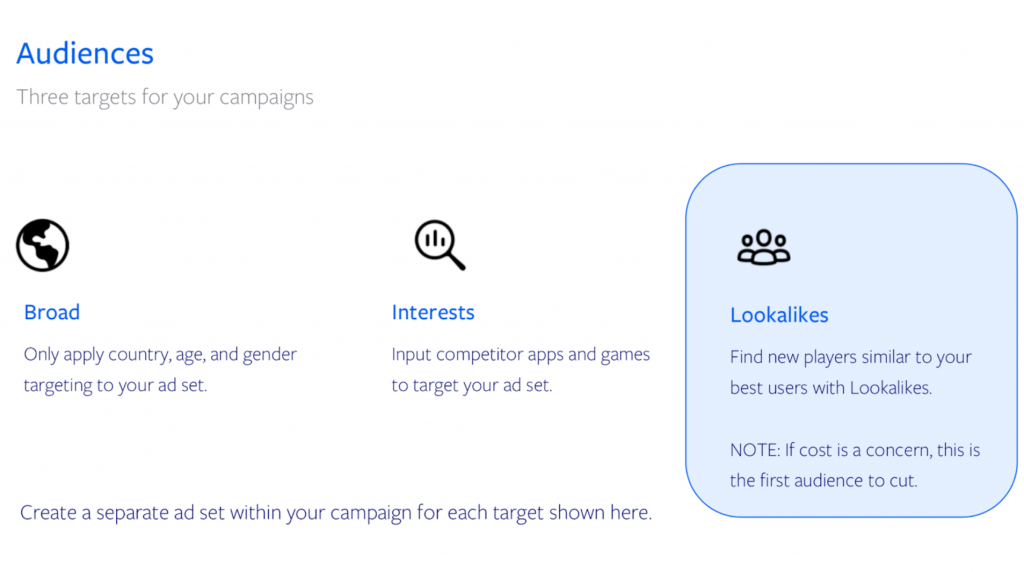 Step 5: Get the best results
The final phase in our approach focuses on maximizing revenue from your new users. We'll use the Highest Value bid approach to accomplish this. It allows you to spend the entire money while still achieving the maximum return on investment. Even better if you can use Highest Value and App Event Optimisation strategy simultanously. (I will talk about AEO more in next article).
You must once again pick between ASBO and CBO. Make your decision based on the budget optimization explanations and ideas provided previously in the text.
Select "Highest value or lowest cost" from the "Campaign Bid Strategy" drop-down menu below budget optimization.
"Optimization for Ad Delivery" can be found on the ad set level, near the bottom of the setup. Select "Value" from the drop-down menu.
Your budget should be sufficient to allow you to depart the Campaign/Ad Set learning phase within the first week, allowing performance to normalize.