There are multiple things you should be thinking about when running User Acquisition campaigns for Hypercasual games:
campaign structure
targeting
creatives 
LTV vs CPI (margins)
Broad – These ad sets generally target entire countries or regions, and are typically split into female only and male only ad sets due to LTV spread by gender
Precise Interest – Target direct competitor apps and similar apps within the genre. Aim to layer on many interests (5-10) to reach a relatively broad audience
LAL – Utilize a seed audience of high valued users (high % of Ad Click or Ad Impressions, highly engaged users, highly retained users, etc..)
Placements – Serve all placements using placement optimization to maximize your delivery efficiency
Ads – Upload ads to serve all available placements

Most commonly, campaigns are structured by country or region, and by expected LTV.
Within each campaign we use multiple ad sets with varying targeting and optimization methods to drive the most value throughout the gaming lifecycle. Large investments generally go to Broad and Precise Interest Targeting at launch when low CPI and high volume is the main objective, and as we move into later phases of the gaming lifecycle (beginning week 2-4), we occasionally observe investments through LAL rising significantly.
Structure mentioned above is something that Facebook recommends for hypercasual games.
But, I've tested multiple targeting structures from interests to lookalikes, but eventually broad targeting for specific GEO outperformed everything else. Hypothesis was that lookalikes or interests will have higher CPI, but also higher LTV. But it wasnt true at all. LTV was the same with the CPI higher, so almost zero margins.
So again, I am writing it down because it was heavily tested by me and my clients, but when it comes down to best performing targeting – its always broad targeting without any interests or lookalikes.
EXAMPLE:
1 CAMPAIGN – (GEO = US)
: ADSET no.1 – 13+ MALE ($250 – 500/daily)
___ 4-6 ads
: ADSET no.2 – 13+ FEMALE ($250 – 500/daily)
___ 4-6 ads
Best practices for setting up campaign tiers based on eCPM's:
Identify the top countries from your worldwide campaign based on your eCPM's (excluding core markets you've already separated out), and create Tier 1
Create a second tier for countries 16-30, and remove all tiered countries from the worldwide campaign
Create separate multi-country lookalikes based on each tier
Track performance daily and adjust budgets accordingly based on LTV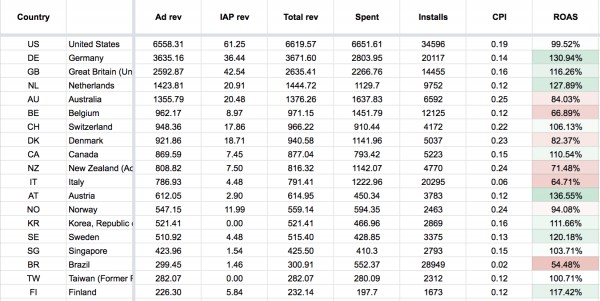 Hyper Casual creatives tends to be:
Simple and straightforward
Makes audience think, but not too much
Competitive
Immersive
Thumb stopping
Short and fast paced
Showcases gameplay
Visible level finish line
duplicate adsets, leave best performing ads in, add new ones and run with higher budget. (pause the old adsets)
or increasing budget by 20% day by day
Focus on building a large range of creative assets, so that you can update when performance declines or CPI skyrockets
Broad audiences need more creative than smaller audiences. Aim to have >5 ads

per adsets when targeting broad audiences

Testing the response rate of your ads is almost as important as developing the game! The market decides which hyper casual games will succeed