Fake ads are very popular amongst developers. They are not going anywhere. But, when and how did they start? In my humble opinion, Hero wars is the game that brought this marketing/UA tactic to life.
Let's take a closer look at the game's UA, creatives, timelines, revenues, and Playrix. Why Playrix? Well, continue reading and you will find out!
Fake ads as a trend in 2023 (and beyond) 
You already know why is it happening. Running and growing a game is not an easy job. You need to involve a lot of departments in this! It's not only on the marketing side of things. You need to work very closely with the game team, data analytics, and ideally live ops as well.
Scale/budget is always dictated by your game's LTV as mentioned in these UA tips. Marketing = UA + Creatives + ASO can help you by 10-20% here and there.
But you won't be able to scale your game only with marketing tricks & hacks. That's impossible. But is that really true? CPI vs LTV equation is really important. And if you are unable to drive the LTV up, then you need to do whatever it takes to lower the CPI down – below your LTV. WHATEVER IT TAKES! Do you hear me?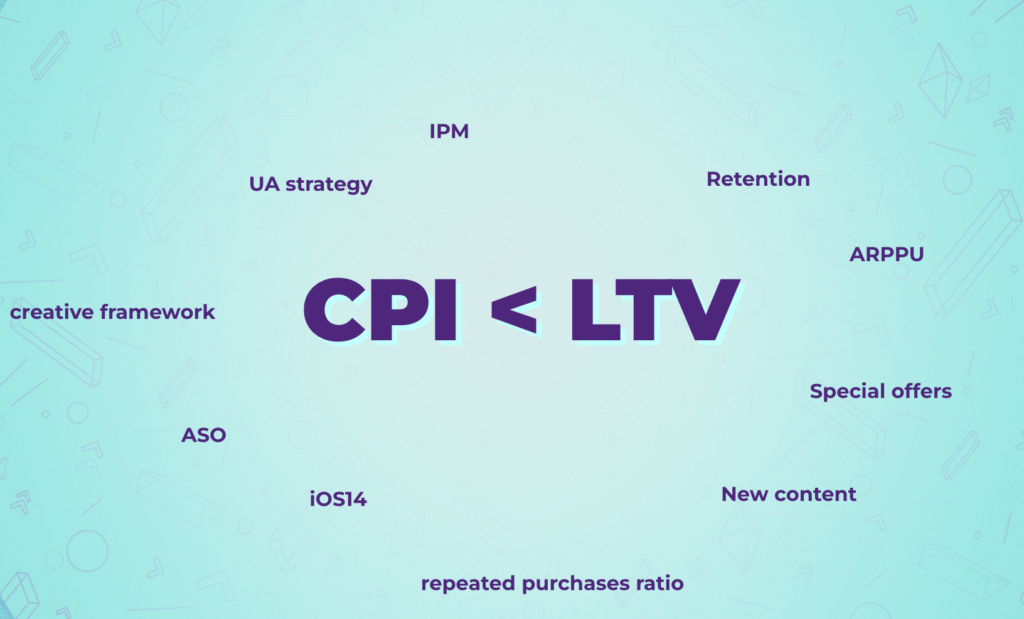 Lately, we have seen many games trying to implement the practices behind fake ads into actual products which is definitely new. 
This again evolved itself as it first started as an attempt to prolong the illusion that the game is the same as the fake ads. This was done rather crudely through "duct taping" the fake ads into the onboarding funnel between the levels where fake ads playables were played by the user and then the real core gameplay of the game would be inserted in between.
After a while, the fake ads would disappear and the real game would take over as seen in the example below. 
Nexters & Hero wars – the fake ads OG
The Nexters story dates back to 2010 when the future friends and founders of Nexters first met. In those days, Andrey Fadeev was running Progrestar, a social games development studio, and Boris Gertsovskiy was shaping his plan to start a game business.
Later Boris Gertsovskiy became the President of the game studio Crazy Bit, and the two companies began their partnership, which resulted in the birth of Nexters in 2014. In the following years, the company grew quickly and released such games as Throne Rush, Chibi Island, and it's blockbuster – Hero Wars.
While their games were quite successful on social, the real boom started in 2018 with the strategic decision to scale on mobile (and maybe the strategic Playrix involvement in their company structure – In the summer of 2018, the founders of Playrix, brothers Igor Bukhman and Dmitry Bukhman acquired a stake in Nexters). Since then, Nexters has vastly increased its players, bookings, and team, which today consists of over 600 game developers.
Nexters generated $318 million in bookings and $120 million in free cash flow to equity (FCFE) in 2020. As of 2020, 35% of the company's net bookings came from the United States, 23% from Europe, and 19% from Asia. Its flagship product, Hero Wars RPG, was downloaded 36 million times in 2020 on iOS and Android.
No bullshit gaming podcast two & a half gamers break!
In February 2021, Nexters announced it would go public on the Nasdaq via a SPAC deal with Kismet Acquisition One Corp. The merger valued Nexters at $1.9 billion. On August 27, 2021, Nexters went public on Nasdaq under the ticker GDEV.
In 2021, in addition to the released Chibi Island at the end of the year, the company soft-launched the new casual game Island Questaway. Nexters plans to launch a match-3-style game, Riddle Island in 2022.
In January 2022, Nexters acquired Cubic Games for $70M, 48.8% of MX Capital Limited (RJ Games) for $15M, and 49.5% of Castcrown Limited (Royal Ark) for $4.95M.
On February 28, 2022, Nasdaq, Inc., halted trading in the stock of Nexters, Inc. and four Russia-based companies listed on the Nasdaq exchange. The halts were due to regulatory concerns as the stock exchange seeks more information following economic sanctions imposed on Russia because of its invasion of Ukraine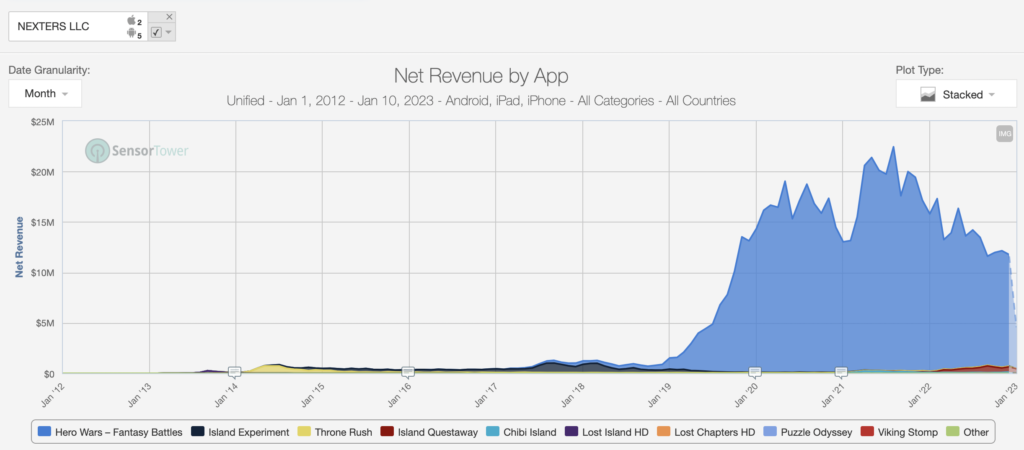 About Hero Wars:
Unlock skills and battle enemies with Hero Wars, the roleplaying online fantasy game. Fight enemies, Archdemon and his evil army, in epic PvP arena battles, and collect the powerful heroes in Dominion along the way. The epic AFK battle adventure awaits!
Power up your heroes, unlock skills, train your army and forge a guild. Fight epic multiplayer wars in the online RPG fantasy adventure. Become a fantasy warrior and leave behind a legacy as the peaceful guardian of Dominion!
This is what their store looks like on Android:
They are geniuses, even though this is one big pile of fake shit. Let's take a look at their current creatives: 
All of these concepts match the Android store. They are all fake, but they are setting up some expectations and those expectations are met in the store. 
UA Creatives & experiments
Okay okay okay, why are we even here? Ah yes! To understand how and when Hero Wars brought fake ads to life. Sorry, I got a little bit sidetracked.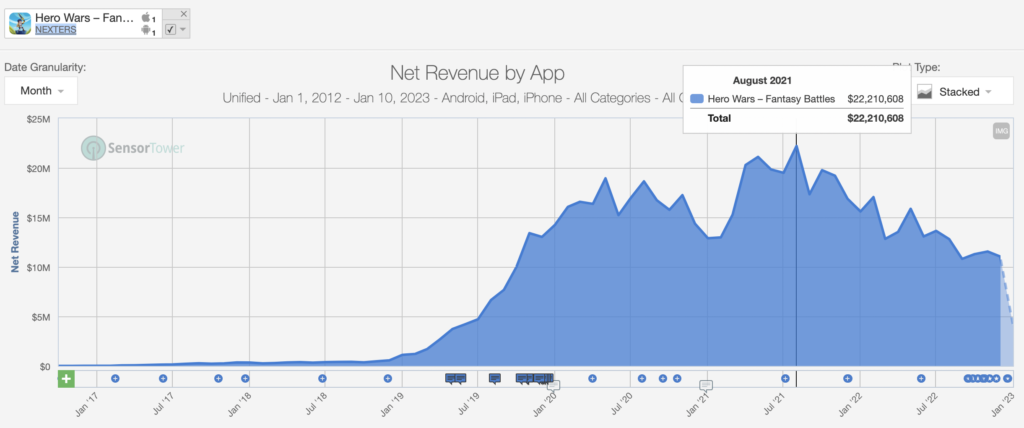 When I am looking at the revenue timeline, I see a few interesting timestamps we should dive deeper into. Beginning of their journey, May 2019, 2020, early 2021 until summer! Let's do it.
Beginning of the Hero Wars Journey
When looking at revenue, the game was making around $300k/month with some improvements here and there. It started growing quite nicely in 2019. When you look at their initial screenshots and creatives, it was very innocent look. 
Pretty normal game, nothing extraordinary on UA side as well!
May & August 2019 – Pull the pin was born! 
This is a very important date in the history of fake ads. Hero Wars introduces a new feature image and things start to happen. They quickly understood what is working well and started a series of iterations. In August, they brought a new, slightly improved feature graphic.
Here come new creatives that match the player's expectations with this feature graphic. 
Iterations/experiments were mostly done on the ASO side. Icon change and adding a fake screenshot into the first position to enhance the illusion. 
Change of a creative strategy is here. Could you guess what happened? Oh yeah! The famous "tower fighting concept" is here with an ASO change as well! This time, first two screenshots are showcasing the fake ads.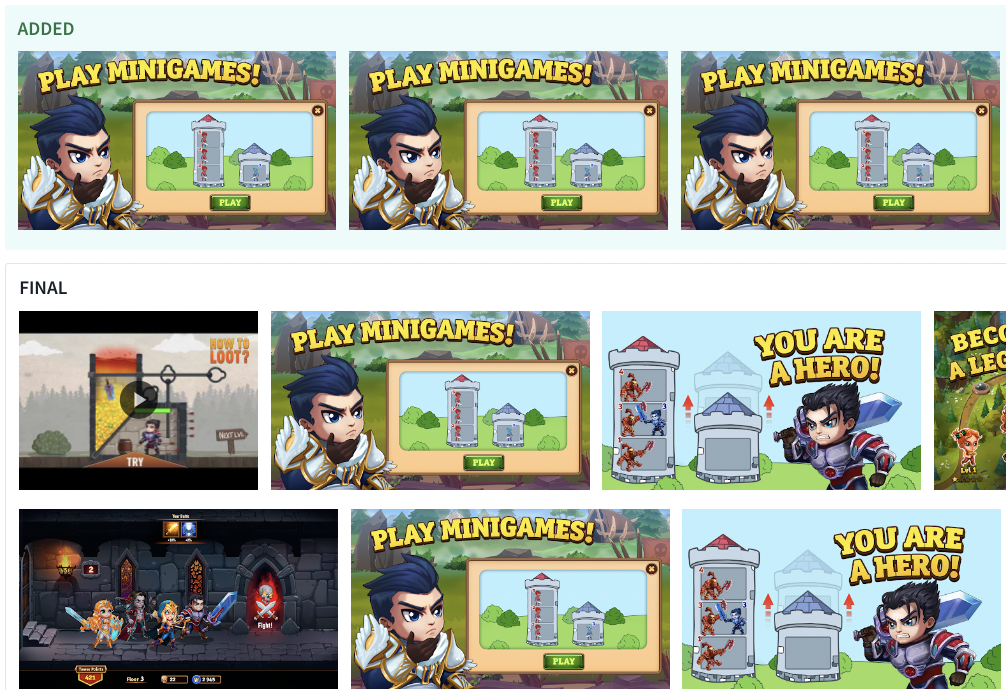 This is exactly the time when Mighty Party realises this tower concept is working quite well for Hero Wars and started the first creative tests. Which became a full-fledged Mighty party overhaul in July-August 2021. 
No bullshit gaming podcast two & a half gamers break!
Hero wars pushes the first playable of a fake ad right from the start of the game, therefore the transition from the store that is full of screenshots of this fake ad seems seamless. Players won't notice any fake advertising immediately.

Afterwards the game takes over and there is one level of gameplay on the sagamap and then another fake ad level is played. It needs to be noted here that the playable works surprisingly well, the user can still fail and if he doesn't want to bother with it he can skip. The fake level is quite enjoyable actually, as there is the usual trial and error phase, where you want to see what happens and how the lava actually behaves in the physics puzzle.  

After level 3 the original game takes over and shows the player the main menu hub. 

The illusion is now complete as the player at this phase still expects that the fake ad puzzles would show up somewhere between the levels as they did before (spoiler they won't) so he continues playing. The legend says this player is still waiting for more puzzles in the game .. 

Hero Wars guys are Fake ads OGs, thats where the Mighty Party got the inspiration from. 
Suddenly their games saw exponential growth in revenues. A coincidence? Hell no! Wait a second! Could this be connected to their M&A activity when they acquired a stake in Nexters back in days? 

Let's look at all creatives!

The outstanding growth of all of Playrix's games was thanks to Hero wars fake ads breakthrough. Since Playrix invested in them (acquired a stake of the company) they had all the knowledge and insights from the trenches. I guess the ROI of that M&A actions is fucking huge!
Thank you Mobile action for providing all the creatives' insights!
Subscribe to Brutally Honest Newsletter