Developer Second Dinner has announced a new digital card battler game Marvel Snap for mobile and PC. Ben Brode, former director of HearthStone, is the founder of Second Dinner. Marvel Entertainment has also made the announcement for the same, while announcing they said that the game would come with the entire Marvel multiverse, including characters and locations.
The announcement video released by Marvel hints that the matches last about three minutes and players take their turn simultaneously, so there is no waiting which gives the opponents chance to figure out the lethal move and kill you already.
Players will confront each other with a deck of 12 cards. Each player that places cards on the table will gain access to three different worlds: Wakanda, Knowhere, and Sinister London. These areas have varying effects on the player and opponent, which can be useful or challenging. To win the game, the player must take control of at least two of the three places. Notably, the game features over 50 randomly generated locations throughout the game. 
At the end of the game, you will receive Cosmic Cubes. If they believe they have a chance to win, they can simply Snap to double the number of cosmic cubes available.


For this game, Second Dinner partnered with Nuverse, owned by TikTok developer ByteDance and Marvel Entertainment.
Why is Marvel Snap Unique
It is actually a pretty good and fun game! 
Each game lasts only six turns, and there is no direct combat between characters or choosing whether to deal damage to enemy.
Instead, your goal is to accumulate the most power across three locations.
At the end of six turns, whoever controls two of the three locations wins the match, and ties are determined by total power across all three. 
The hero cards themselves are built around Marvel mainstays as well, with similar but occasionally less inventive concepts than the locations.
The vast majority of the cards are clever, creative envisioning of how to express the famous power sets of these heroes inside the medium of Marvel Snap's mechanics.
Iron Man, for example, doubles your power level at a location by equipping all your cards with an arc reactor.
Captain America inspires his teammates, giving an ongoing boost to other cards wherever he is.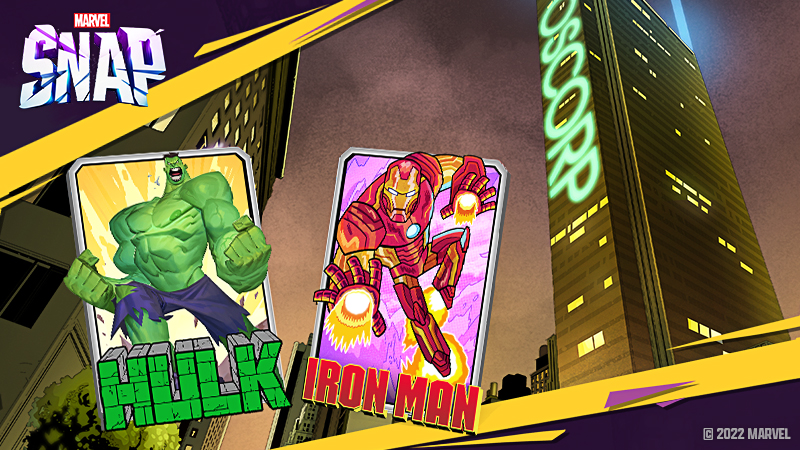 The User Acquisition strategy - diversifying all the way
According to Social Peta, they are mostly spending in these countries:
Android – KR, TH, AU, NZ, ID, US
iOS – AU, KR, NZ, US, ID
Second diner is a lean organisation. When global launching a game, it's important to have full team on the UA, analytics and creative side. If you don't have it, you either work with publisher/partner or an agency/consultant.  Let's get to the actual UA operation:
Channel mix
Facebook is the biggest channel in terms of spend both iOS and Android.  
What is surprising is the fact that I have downloaded the game from the store immediately after the launch. I still see Marvel Snap!
Such a waste of resources. It's called excluding existing players, you are pouring money into the drain.
Not using custom placement, running square formats in Stories instead of vertical format. Not a big problem, but some % here, some % there of improvement and suddenly you are profitable. Wrote about this performance hack here!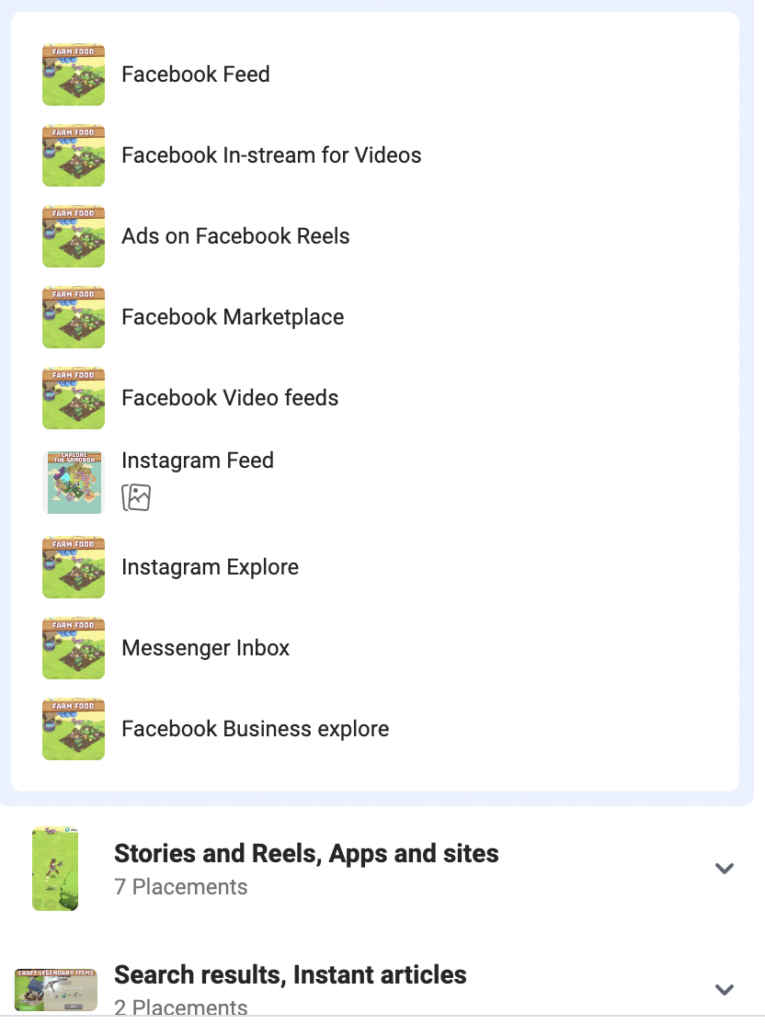 We can see they are utilising all big UA channels: Ironsource, Google, Applovin, Tiktok, Vungle, Unity, Mintegral or small test on Yahoo Japan
Running all channels and diversifying the UA portfolio efficiently are two separate things. In here, we can see a good baseline of plenty of channels, but they are not optimised. Running a UA for a CCG is not easy. Especially on ad networks. Been there, done that in the past. And obviously, made the same mistakes. But I learned my lesson. So what could go wrong?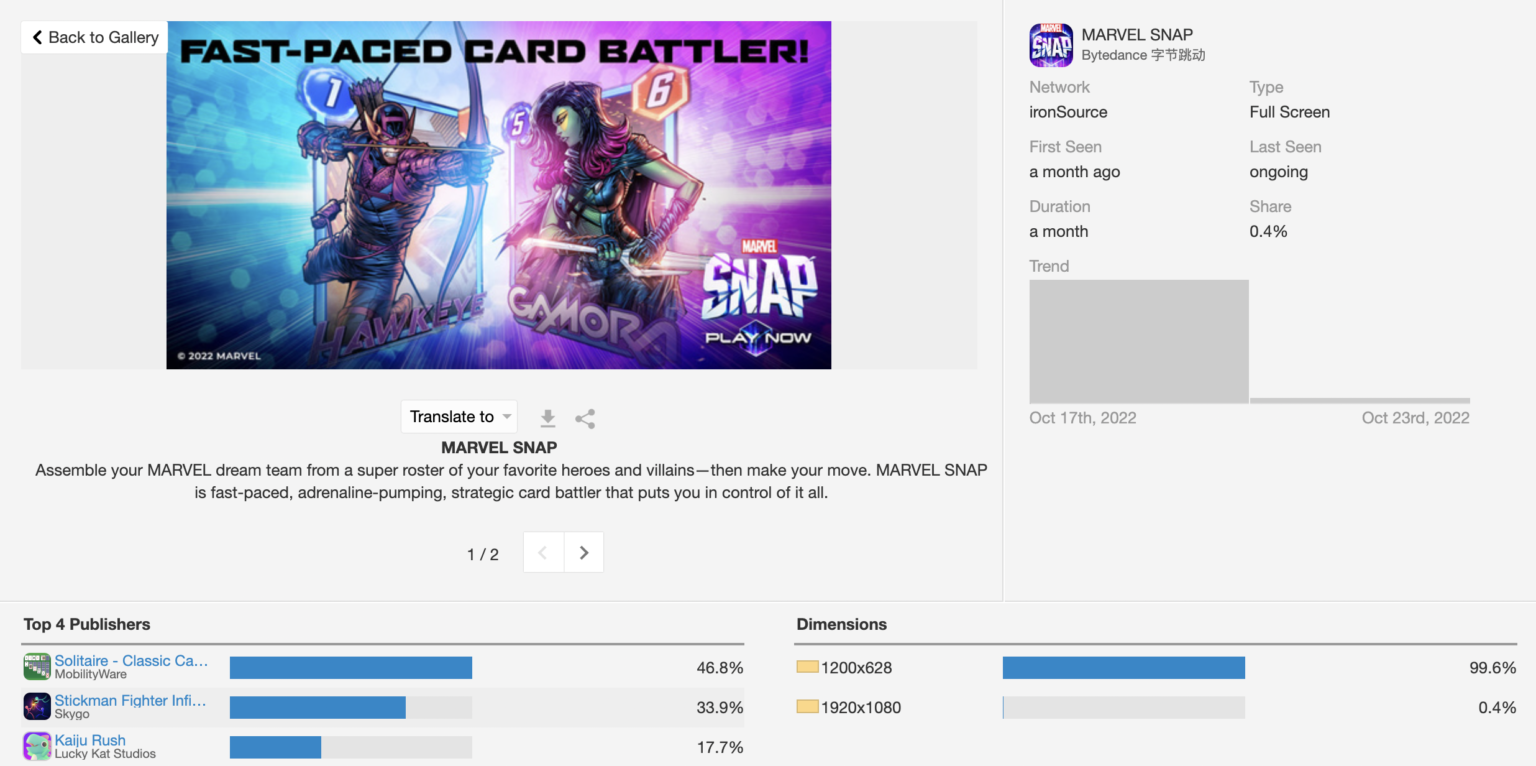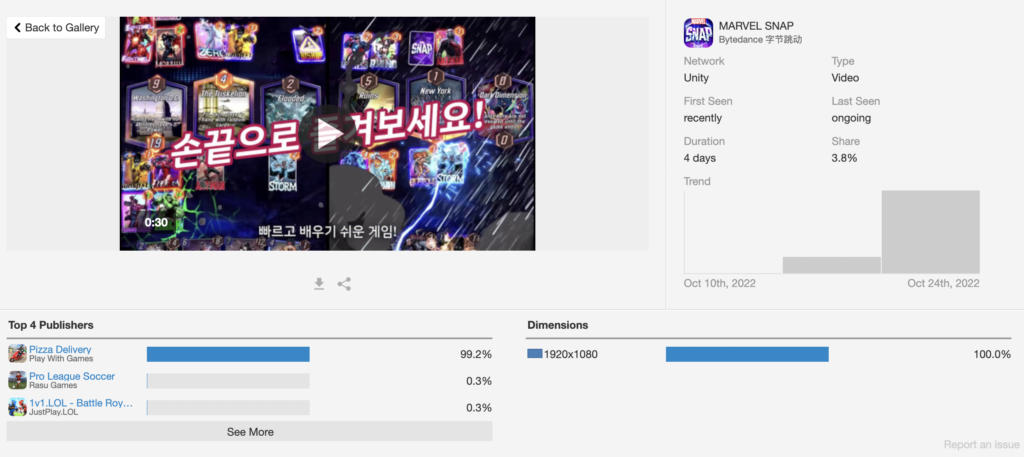 Do you see the issue? Right! Pizza delivery hypercasual game top publisher on Unity. Top publisher on Ironsource is a classic solitaire game. Do you know what kind of audience plays Solitaire games? Yes, casual female audience.
Quick Facebook audience check.

The interest "Collectible card game" has 13,887,520 players on Facebook. Amongst this audience, men accounted for 80.2%, women accounted for 19.8%. The major age of Collectible card game audiences is 25-34, and they accounted for 39.25%.
You get the point, right? 
Thanks to the nature of both games – cards! Ad networks algo tries to fit this into the targeting options and if you dont pay attention to it, you can waste a lot of money with very poor results. 
What to do? 
In these situations, you should dig deeper into the source (sub-id) level data and talk to your rep to cross-check targeting options and ideas. Ideally have a set of sources (sub-ids) with similar target audience! 
CPI vs LTV or how to scale a game?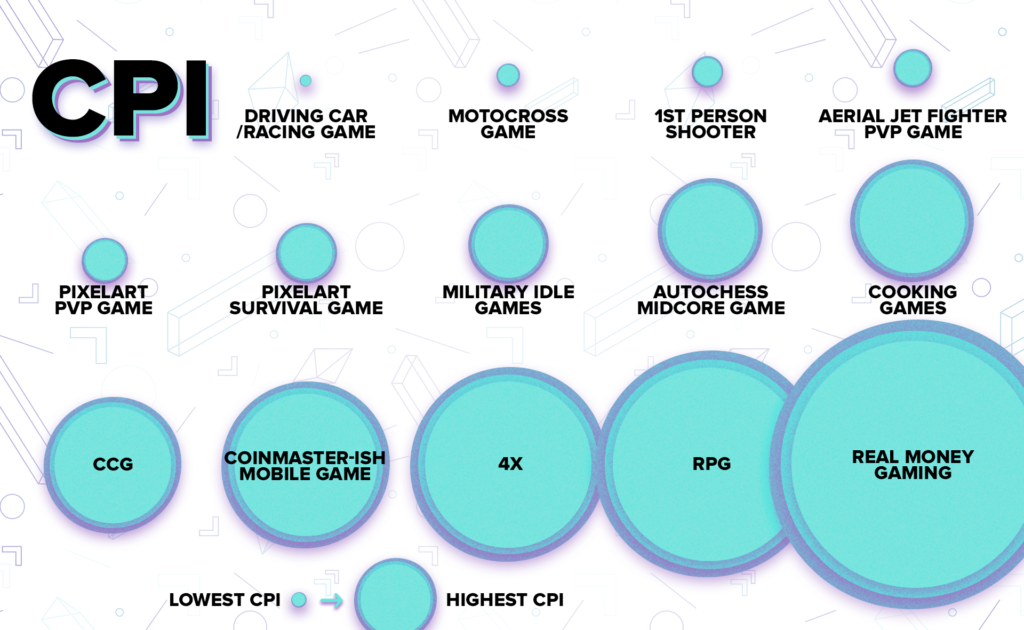 Again. Scaling a game is not only a function of a killer user acquisition operation. It is also a function of a LTV. You can only scale your budget until the LTV allows you to do so. Eg. If your LTV is $5, you can run profitable campaigns until you hit $4.5 CPI (or any other CPI that you calculate based on your margins) If you are in a tough genre and seeing around $20 – $40 you have some work to do!
Currently Marvel Snap is making around 300k USD/day from IAP (in app purchase) and nothing from Ads revenue, because there are none with 400 – 600k daily installs.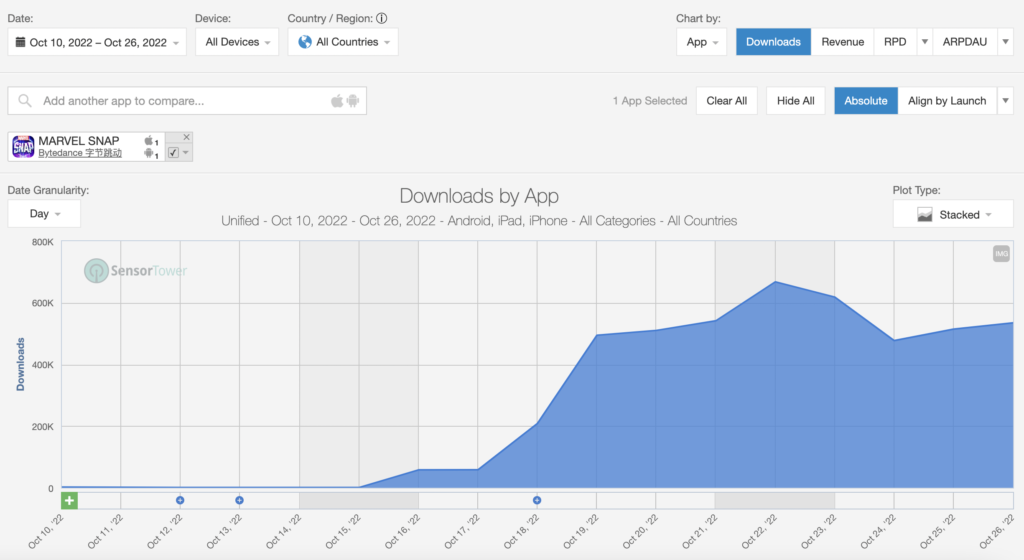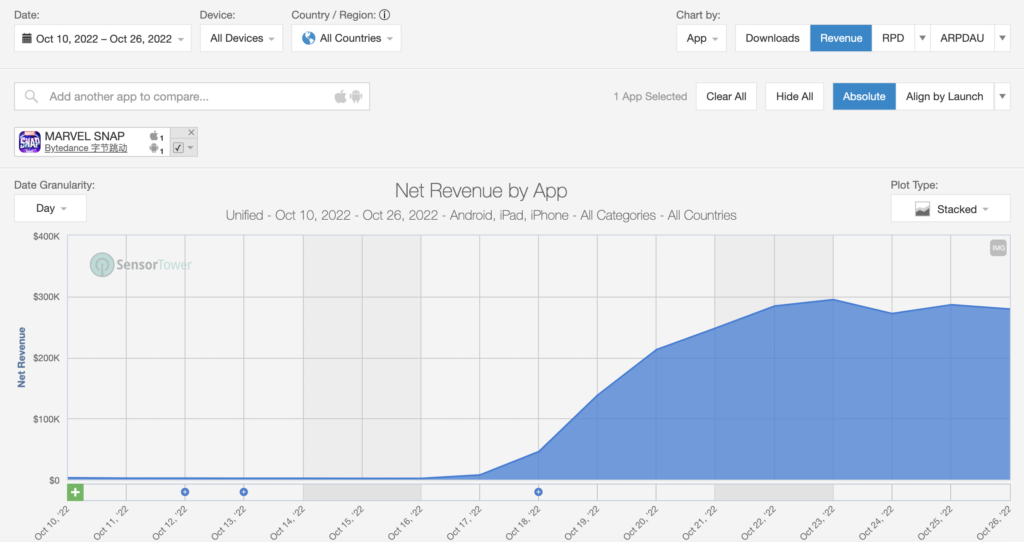 Monetization
Very very "Blizzard" way of monetizing players. Even if you had infinite money to spend, you can only purchase a handful of upgrades per day, making it a fairly inefficient way to level up. The monetization strategy seems aimed mostly at purchasing variant art, like pixelated or baby versions of the characters. There's so many of these it seems impossible to gauge how long it could take to collect them all, but it's also a purely visual flourish.
The other monetization comes in the form of a season pass, which awards new cards, credits, and other bonuses for completing missions. In my experience so far, this is also surprisingly generous and low-impact. 
Coming in midway through the season you may not be able to finish the season pass in time and miss out on the best rewards. After only a few days, you could clearly caught up and able to start pocketing the new missions as they progressively unlocked. 
Daily missions unlock on a regular timer every eight hours, and take just a few minutes to complete, and largely grant progress toward your season pass missions. This is a game that wants you to check in frequently for a little bit of time, not obsess over for hours at a time.
This could be improved quite heavily, looks like the developer is leaving a lot of money on the table. Friendly monetisation and no ads placements in the game what-so-ever! 
This leaves a big question mark on the scaling the game topic. With really high CPIs and friendly monetisation, it would be hard to grow and scale the game even with the tremendous help from Apple. (sending push notifications about the game. Well done!)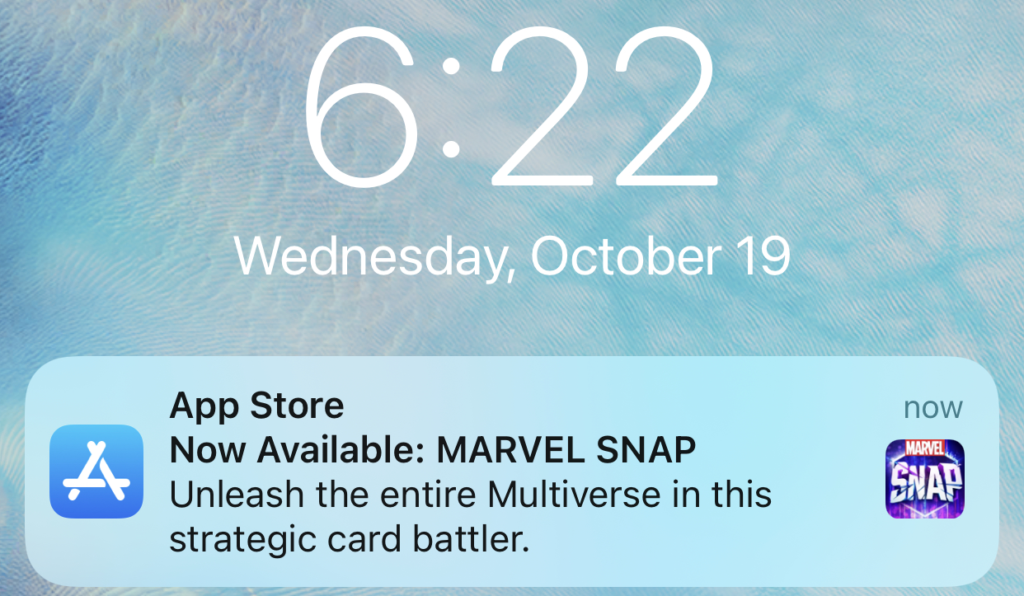 Overall creative strategy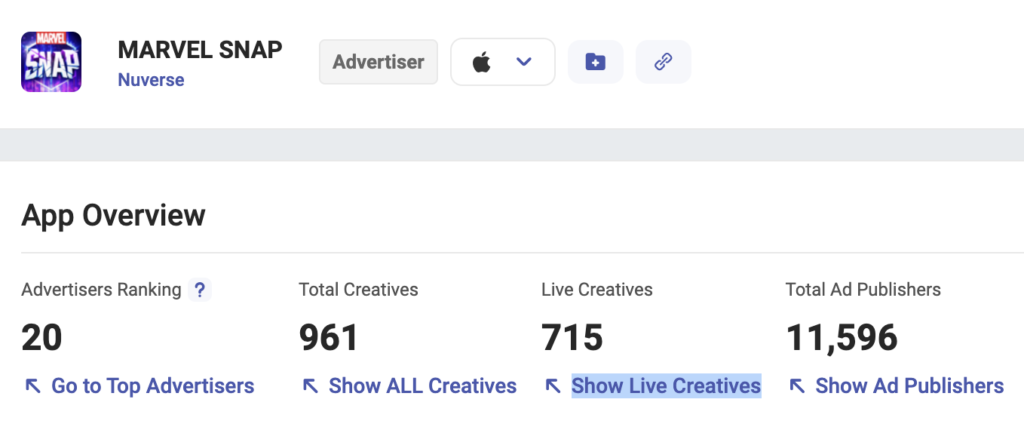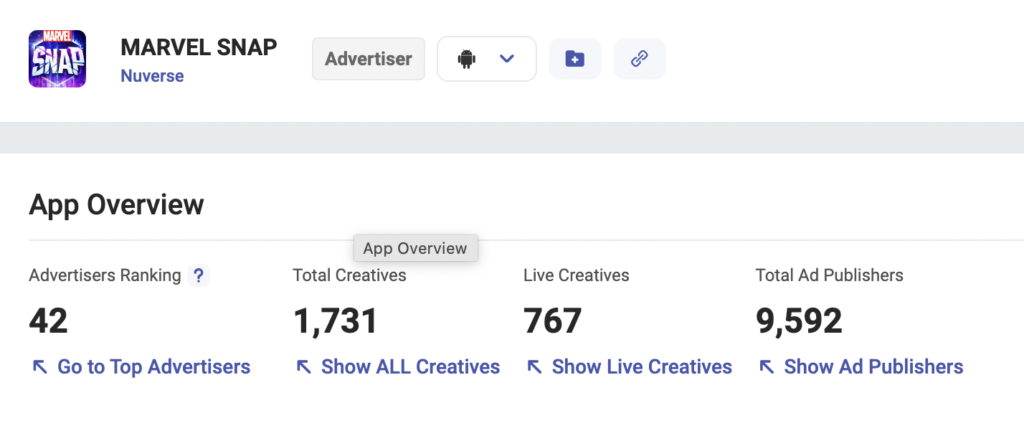 UGC with developers
Card collection gameplay
CGI battle video
gameplay mixed with card upgrades
Samuel L. Jackson as Nick fury videos
Honestly, the UGC developers videos are pretty hard to watch for me as a mobile gamer. Obviously it's subjective, but comments under the videos on Facebook suggest I am not the only one. Never the less, Ben Brode is a big idol in the CCG genre and premium players know him from his Hearthstone days. But this is mobile, wake up!
You have 1-3 secs to grab player's attention. What do you want to show there? Most probably something else then founder's face. 
My guess is they have whole marvel universe (even though some suggested the Marvel license could be limited) I would use the shit out of Samuel L. Jackson and potentially other celebrities in the creatives. 
I would also do a research about the most popular marvel heroes and tried use them in the creatives. I am pretty sure America Chavez is not the most popular one from all the heroes. In fact, it's Spider man, Iron man, Thor, Black widow or Hulk. Put them front and center of the creative. These heroes definitely appeared in the CGI battle creative which is shown below.
Also, look at different games and get an inspiration from them. I know it could be hard because of Marvel license, but still should be doable. 
Showcase upgrading of the cards (this is somewhat happening), visual improvements, different game scenarios – losing, changing strategy, winning. So much stuff that can be done here!
Why not showing that the game is actually fun? It's a very good game and the feeling when you win is just super exciting. When you SNAP even better! Creatives are about emotions. Use them!
Marvel Snap creative examples:
This is the CGI battle creative (which is kinda cool, but super long) Ideal for Youtube!
On TikTok, there's really no single formula for success. It's actually more about finding your own voice – being unique and different is what will get you noticed and excite your audiences.
Lets take a look at what Marvel Snap is running on TikTok with highest impression share:
To be fair, there is more, but very low amount of traffic:
Obviously "being unique" is easier said than done, and may be intimidating if you're new to content creation on the platform. Upon reviewing the top-performing game creatives on TikTok, they've identified a few key observations. The best creatives often follow a certain pattern around the way the story is told – some similar components that make up a compelling storytelling flow. Fresh out of the oven case study says this:

If you look at the creatives they are running on TikTok and the best practices you could notice some differences. Those videos are super long! They are using audio which is nice, but this is what I would focus on:
Short form videos 8-12 seconds
all formats (Vertical videos work well, but add square and landscape for more reach)
use TikTok music gallery, mainly trending music. This is a game changer!
if you can, use more Samuel L. Jackson (in fun, less weird concepts)
But to be fair! Their creative ideas seem to be driven by motivations that cover most types of players and game genres like Progression, Power or Expertise. 
The point is, when you see these creatives, you want to download the game ASAP and start playing. 
Takeaways & last comments
I have to admit, they are doing what they can on the creative side with nice cuts and mixing&matching the different creative concepts. 
This could all sound pretty negative and grim, but there is just so much more untapped potential they can do better! On the creative side and the UA side of things. 
For successful global launch and scale, you need both killer UA & killer monetisation strategy. It's not easy to do it without one or another. In this case, at least the game is great which gives us hope it will improve the monetisation and scale!
Take a look at the full UA, GD & Admon case study below
Subscribe to Brutally Honest Newsletter