Let's just dive directly into the creative process without any fluff. No intro bullshit, sorry!
First of all, lets analyze the past creatives and data and if we don't have any data then looking into the competitor creative analysis is a good start. Trying to find out what are the competitors using in different UA channels. These insights are really important to bring to the brainstorming sessions where I talk with the motion designers and idea makers. What I found out was really important and beneficial for the whole creative process is to bring game designers or product managers into the brainstorming process because it's really interesting to hear their angles and their perspective of the game and the perspective of the target audience. 
Brainstorming sessions  always result in preparing the creative brief. Creative brief is very important for the whole creative process and the ad creation and well, it ensures everybody is on the same page. You will get the list of creative concepts woth all elements that are going to be included in video or static image. Brief can be in written form or visual story board.
Afterwards there are some first sketches and feedback and preview before that obviously where client, PM or UA manager is choosing the idea based on either the past performance or the competitor analysis or sometimes it's based on your gut feeling.  After the creative concept is done, we are going directly to the creative testing and evaluation part of the whole process. 
Creative testing is mostly done on Facebook but can be done on other channels as well. You're looking at the numbers in dashboards and trying to evaluate the winning idea. After that winner creative goes to BAU (business as usual) campaigns. All these processes start all over again.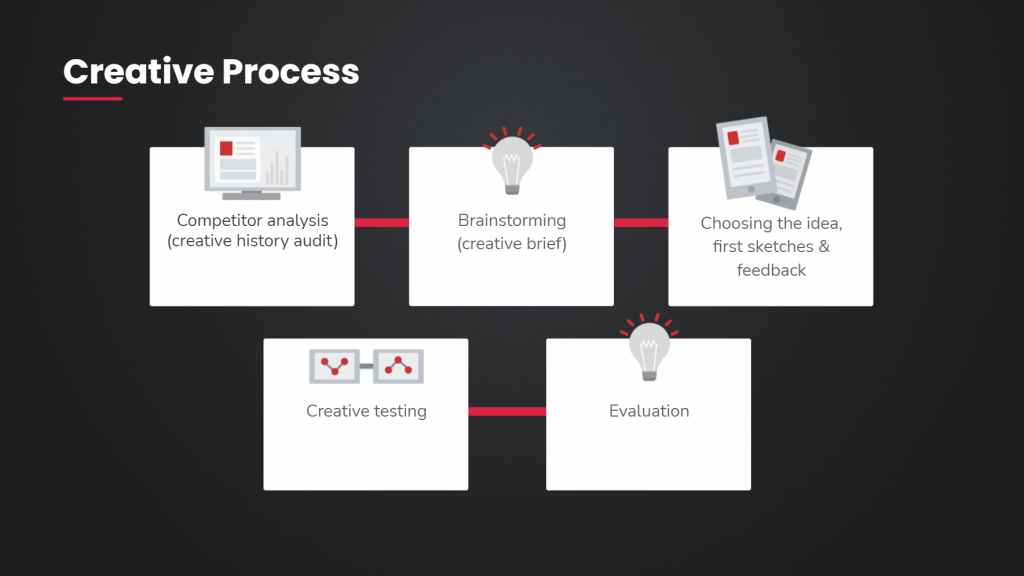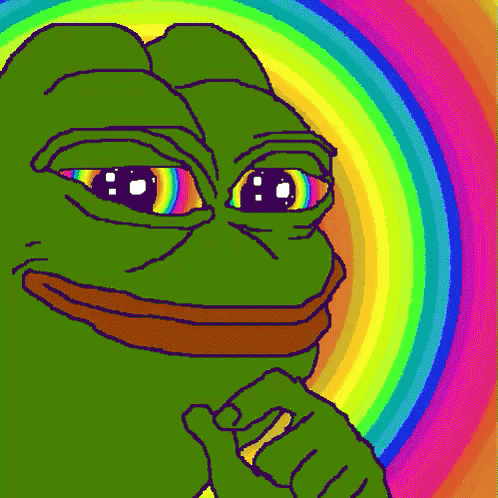 Jokes aside! In terms of the competitor analysis and I use the Mobile Action ad intelligence and where I can see all competitor creatives. Not only what they're using on facebook, but also on the other ad networks which is really important. Before I was using only the facebook ads library but now this is like more comprehensive and that gives me more data to work with. Motion designers or any creative team can deep dive into this and see what works and what doesn't.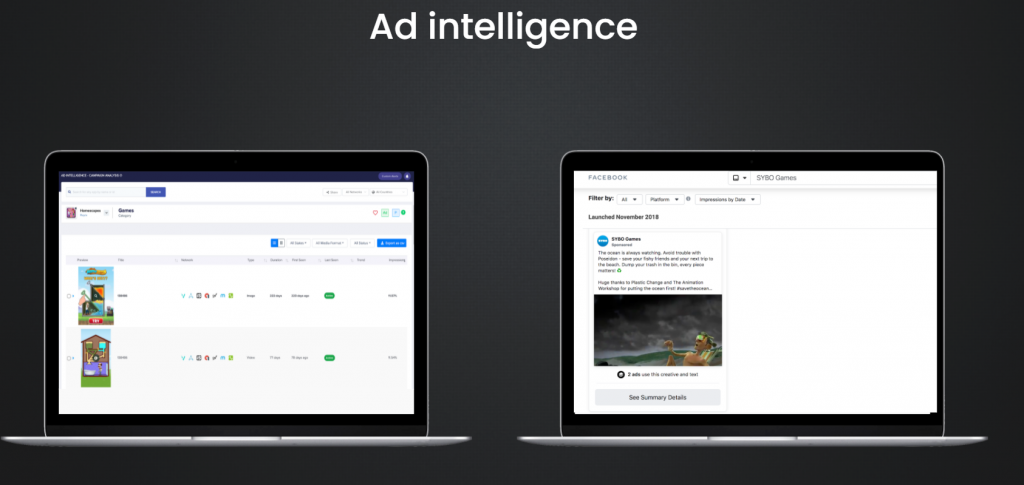 Brainstorming sessions these days are not easy to do, I was used to do this face-to-face, but in these COVID times its not an easy thing to do. We found out that the google drawings tool work well and use that quite a lot. You have the whole crew there and everybody can participate, comment, create ideas, draw whatever else.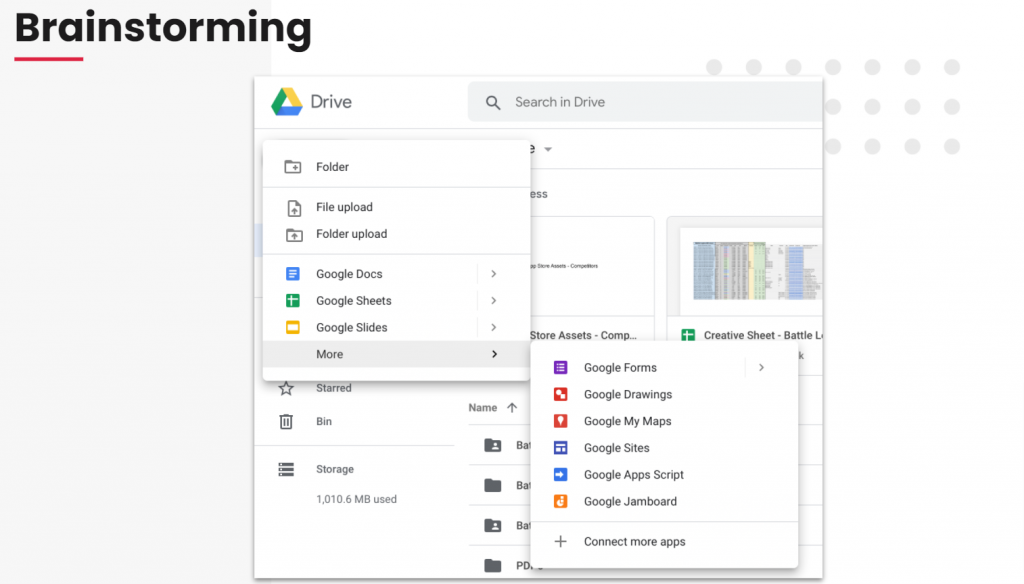 There is no single truth in the testing framework. Multiple companies, multiple frameworks. You should always try and test what works for you the best. Also, this changes quite often based on your needs, number of creatives, budget or the current situation on the market. 
For me, the VO framework always worked the best, but I tested other variants as well. If we discuss testing creatives on google play versus on iOS, my answer will be GP. Here is why: lower CPI therefore more data, same winner as on iOS. Validated multiple times, winner creative is a winner on both GP and iOS. Full stop!  
Creative testing on iOS14
Here is the thing. IOS has always been more expensive platform. You would see higher CPIs on every channel. So how do you approach the creative testing now when not only CPIs are higher, but evaluation is almost impossible? Well, you dont. Why would you test creatives on both platforms to get the same result, but on iOS you spend way more? Again, you dont.  Not sure why people became obssessed with iOS14 creative testing. My advice, stop wasting money on iOS14 creative testing and use that budget more wisely. 
Where to get inspiration?
Where do you find inspiration for creatives? We spoke about competitor analysis and the Battle Legion creative above was inspired by competition, but what else?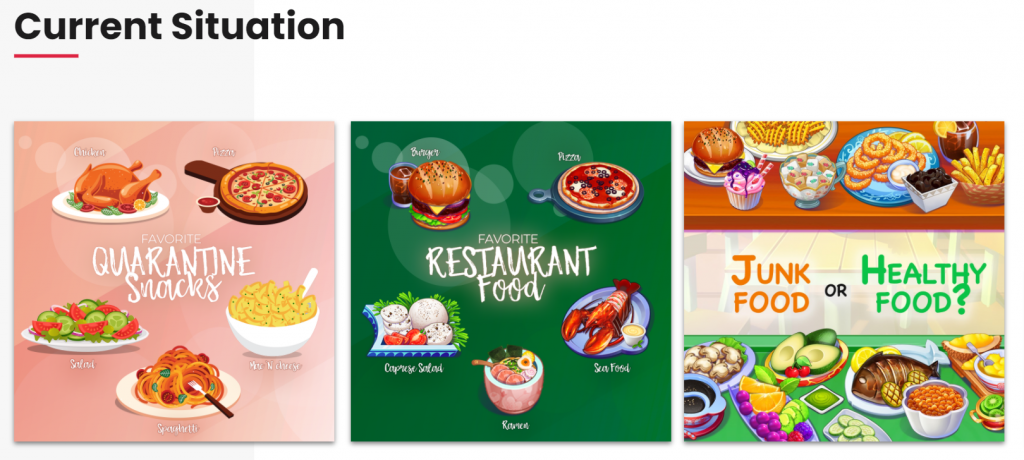 COVID times back in february or march, 2020 probably, we just thought that okay let's ask people about what they like to eat during the quarantine and what are their favorite snacks. Connecting static image with this very simple question and we started seeing a lot of answers in the comment section from players. "I like to eat salad" and there was also alot of pizza comments. No chicken, no spaghetti or mac and cheese – just salad and pizza. We tried a little bit of the spin with these static images to favorite restaurant food. That didnt work, people stopped commenting and we were thinking "okay let's just rework this idea" and since the players were commenting about salad and pizza let's just use junk food or healthy food. This one actually started working pretty well in terms of all KPIs. Where to go next? Calories, more healthy food, etc. Leverage the current situation, look around you and use it for your advantage. 
Hypercasual creative of your game
Forget about the persona led creatives everybody is talking about thanks to the iOS14. The thing is, personas and motivations were here a long time ago. I guesss it wasnt so popular to talk about back then. Lets focus on something else. Adapting hypercasual game concepts to your game. 
I'm pretty sure that you saw these ASMR slicing videos because the ASMR Slicing by Tricky Tribe – my friends from Slovenia – was a big hit in the United states and I think number one for a couple of weeks. 
I am also pretty sure you saw different games like Coin Master started slicing their coins. Why not to use it for other games as well. Slicing a tomato? Hell yeah! We are not talking only about ASMR slicing here. There are other concepts you could use. Great thing is, new ones are popping up every day!
Hypercasualize your game creative even more
Tangle master 3D vs Idle Panzer
Ideas everywhere (even in #random slack channel)
Idea is important, but execution is king! As soon as this appeared in the random channel, we knew what we need to do. Z Thanks Akseli for making this happen. Teamwork!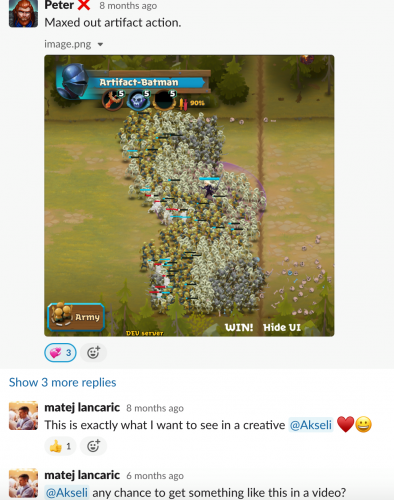 Use memes, hype or whatever is happening RIGHT NOW – browse reddit, 9gag , 4chan or sites you can think of to get these ideas. 
Hiltcher is a great example – I would like to highlight that static image because the Hiltcher was created when the actual Witcher series appeared on Netflix . Everybody was talking about it, hype. That's why we tried to use this idea and create this character Hiltcher which is pretty similar to Witcher and we saw amazing results immediately.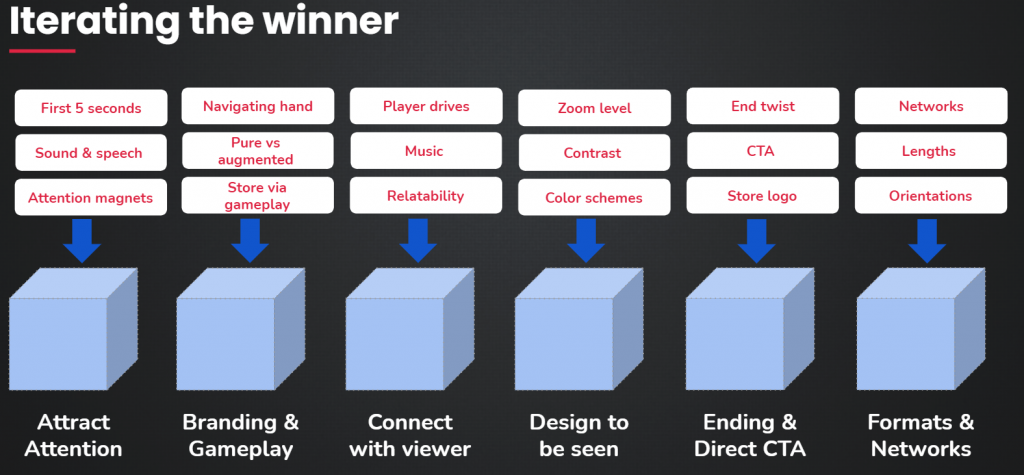 Try to find your own framework, test out multiple things, but stop wasting your money.